Mitchelburne brethren complete fundraising challenges
As part of the 300th Anniversary celebrations of the Formation of the Apprentice Boys Association by Col John Mitchelburne the Mitchelburne Club decided to participate in fundraising challenges in the month June in aid of the Apprentice Boys Benevolent Fund.
1.Bro Connor McKnight completed the Walled City Marathon on Sunday 1st June 2014 in a time of 3 hrs 42 mins.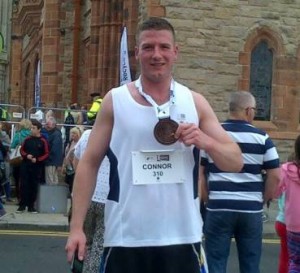 2. Mitchelburne Club members completed a climb to the peak of Sawel Mountain, on the  County Londonderry/Tyrone border, on Saturday 28th June 2014.