Mitchelburne Day 2011
The Annual Mitchelburne Day will take place this year on Saturday 17th September 2011. The parade will leave Rossdowney Park in the Waterside at 11.00 am sharp and make its way to the Apprentice Boys Memorial Hall, led by the Pride of the Orange and Blue "Auld Boys" Flute Band.
Initiations of new candidates will take place at 12.30pm. This will be followed by lunch with entertainment being provided in the Hall along with tours of St Columbs Cathedral and the City's Walls for visiting brethren.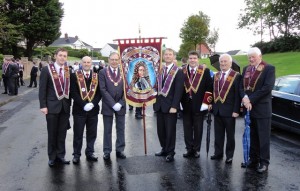 UPDATE: CLICK HERE to view photos from Mitchelburne Day 2011.